VINS – VINRAB 1000 IU (5 ml vial)
Composition: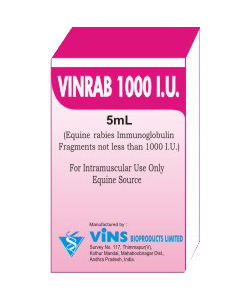 Each vial contains:
Equine anti rabies immunoglobulin fragments – not less than 200 I.U./ml.
Cresol I.P. < 0.25% v/v as a preservative.
Glycine I.P. – 0.0225 g/ml
Sodium Chloride I.P. – 0.009 g/ml
Water for injection I.P. – q.s.
Description:
Rabies antiserum is a sterile, non-pyrogenic solution for intra-muscular administration, containing antiviral substances obtained from the blood serum of healthy equines that have been immunized against rabies by vaccination. In addition, it also contains the anti-microbial agent cresol.
Therapeutic Indications:
Rabies antiserum provides passive immunization against rabies for prevention of rabies in patients at risk of being exposed to rabies after contact with a rabid animal or an animal presumed to be rabid. Anti-rabies serum itself does not constitute an anti-rabies treatment and should always be used in conjunction with rabies vaccine.
Contra-Indications:
Should be used with extreme caution in subjects with a history of allergic symptoms or hypersensitivity to equine serum.