Tetanus Antitoxin 1000 IU / 1500 IU / 3000 IU (1 ml vial)
( Liquid)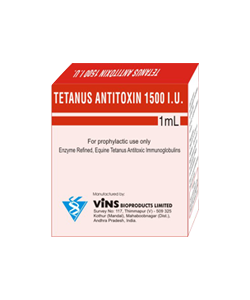 Administration:
Tetanus antitoxin is given prophylactically to persons at the risk of tetanus infection by infected wounds or severe wounds. A dose of 1500 IU should be given intramuscularly or subcutaneously and the dose may doubled or trebled in case multiple and severe wounds. Prophylactic dose is also given in surgical operations as post operative care.
Along with this passive immunization it is advisable to initiate active immunization with adsorbed Tetanus toxoid.
Indications:
Tetanus antitoxin neutralizes the toxin produced by Clostridium tetani; the toxin has high affinity for new cells and antitoxin is unlikely to have an effect on toxin that is no longer circulating. Tetanus antitoxins have been used to provide temporary passive immunity against tetanus but tetanus immunoglobulins are preferred (Reynolds, 1990; McEvoy et al. 1988). Human globulin offers the advantage of greater protection, a lower risk of adverse effects and requires only one-tenth of the dosage compared to antitoxin of animal.